Hi all! Yes, we made it. It was a long 6 hours of driving, but we finally made it to our condo and could rest for a little while. We went to dinner at our favorite seafood restuarant and then we went for a barefoot walk on the beach. The girls loved it and ended up soaking wet by the time we were finished. LOL!

The internet access is iffy here this year, so who knows how often I'll be able to get online from the condo. Luckily, there are free wi-fi spots all over the island and into Savannah that I can hit if need be. I really just need to check my email at least once per day.

Anyway, here's a little picture from when we first got here. Overlook how awful and tired I look as it has been a looooong day. LOL! The wind was blowing and my hair was wild and we were all tired.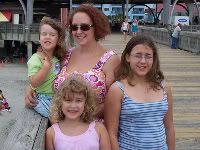 Ok, I'm off to enjoy the rest of the evening with a yummy Fuzzy Navel and a hubby who is just as tired as I am. LOL! Talk to you all later! :-)