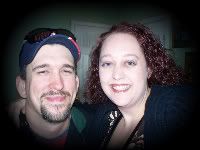 Yep, that's right. Today is my 32nd birthday. And to my surprise, it's been a really good day.

Tim and the girls were in a good mood today. He's been all lovey dovey today, even though he was running around repeating "You're 32" over and over. LOL!

We went out to have a late lunch at our favorite BBQ place. Then we did a little shopping. And now we're home ready to watch some movies and have a peaceful night. It was flurrying a little when we came home, but I think that's already stopped.

Tomorrow we're suppose to head to Chuck E Cheese for the girls. Should be fun!
So anyway, Happy Birthday to me! Thank you to all of you who've sent me birthday wishes via email and/or on MySpace or Facebook. I greatly appreciate your love, comments, and thoughts.
Have a great weekend all!
.