Good evening all. Have you had a good weekend thus far? Do anything special, or just hang out at home? We've had a pretty peaceful Saturday, after a busy and fun Friday. :-)
I just realize that I never got around to sharing the pics from my weekend away with Tim two weekends ago. I just finished uploading and resizing them, so I'll go ahead and post them now while it's fresh in my mind.
We stayed at the
Edelweiss German Inn
in Helen, Georgia. It was gorgeous, though I imagine it's even better in Spring when everything is green and blooming. We'll definitely have to go back one day.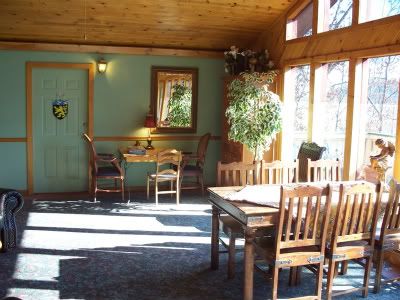 This is the upstairs sitting room that was right outside our room. The wall of windows led out onto a wooden deck overlooking the patio sitting area.

More of the sitting area. There were all kinds of games, books, and things to keep you occupied (if you need that kind of entertainment on a weekend away, lol). There was even a computer and internet connection... though I never touched it. Shocking, I know. ;-)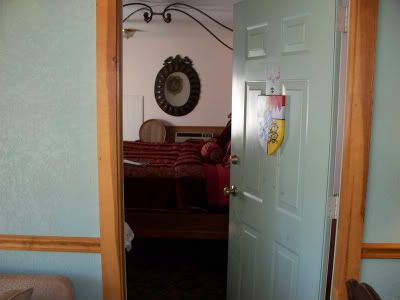 Our room!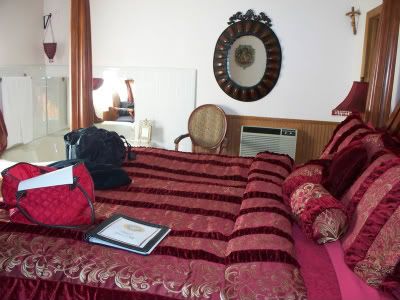 We had a gorgeous room that was full of reds and dark wood tones. The king sized bed was massive. It was so high that I had to literally jump up into the bed. Tim was laughing at me. Overlook my purse and our bag that were discarded on the bed as soon as we walked into the room.

The Jacuzzi tub was nice. Too bad they were having hot water problems that night and we didn't get to play in the tub for too long.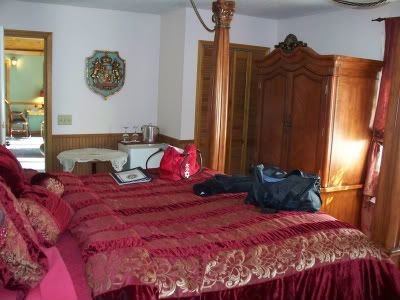 View from the other side of the room. The bed was a four poster bed with wrought iron canopy across the top, connecting all four posts. It was so high that there was no more than 1 inch between the canopy and the ceiling.
There were a lot more pics, but they weren't family-friendly. LOL! We had good time up there. It was a nice way to get awy for the weekend without being too far from home. The staff was friendly, the inn was beautiful, the food at the resturant downstairs was delectable.
Okay, now that I've shared those I'll recap yesterday and today for anyone bored enough to read about it. LOL!
Today was a normal Saturday. Tim & I woke up in a quiet house. We took some cans to the recycling center and made a few dollars for Tim to stash in his wallet for work next week. We picked up the girls from my mom's (they spent the night with her last night). Then we picked up a new running line for our mutt dog since she broke her line this morning. The it was right back home for us. Nothing exciting... though the girls were outside for a while (*wink, wink*) and Tim grilled out for us at dinnertime. :-)
Now yesterday was fun. We did the normal Friday stuff--grocery shopping, trip to bank, etc.-- and we took the girls out for breakfast (it was actually more like brunch since we got to sleep in). After all that, we came home for a few hours until my mom came to get the girls.
As soon as the girls were out the door Tim & I dashed off to my sister's house. THEN, we went to a new "grown-ups" shop. We've been to a few different ones over the years, but we'd never been to this particular one. It's always interesting to see how classy (or not) adult stores can be when trying to display the same "merchandise". LOL! This one was pretty classy, thank goodness! *giggle*
We came home with $70 in new goodies and lingerie to enjoy. Not bad since we spent like $85 two weeks ago at a different shop. LOL!!
After that we picked up a quick dinner and headed home to an empty, QUIET house. It's always nice to enjoy the sound of silence together.
That's it for our weekend. Tomorrow we'll visit the in-laws for a few hours and then head back home so Tim can change the oil in my van and watch the Nascar race. Oh, I cut my hair Thursday night too. Funny how I can do in 10 minutes, for free, what the hair salon does in 45mins and $40.
Until next time, I hope you've had a good one!!
.