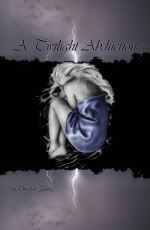 This week has gone by fairly quickly for me. I can't believe it's already Saturday. Of course, the days do roll into one another when it's rainy day, after rainy day, after rainy day. I'll be so glad when the sun decides to grace us with its presence again.
Today has been a lazy day around the house. Tim's watching his Iron Man dvd at the moment. Now that doesn't mean I have been able to be lazy. I've cleaned the kitchen, done three loads of laundry, swept and vacuumed the floors, and stripped down my giant bed to wash the sheets.
Plus I have homemade pizza crust rising in the kitchen right now for when the oldest daughter's friends arrive and they can make pizzas tonight. Tim and I will be having a Mexican dinner that we'll make ourselves. He's not in a pizza mood.
I also worked on the Character Dictionary for the website. It's almost complete! I'm working on the section for A Twilight Abduction at the moment. I never realized that I'd written so many more characters into that book than I did in the previous two. It is fun to go back and recap my previous characters. I like that it refreshes my memory of how much I loved them while I was writing them.
I currently have 12, yes TWELVE, book projects in the works. Most are in the form of a few paragraphs in my notebook so that when I get time to write them I'll know what my idea was and how passionate I felt about writing that story when I made the notes. Others are already started in their own computer files here on the laptop. Then, I have notes about linking one story with another in my cell phone. I use to carry around a digital voice recorder to make notes anytime, but found that it wasn't as conducive to how I work as a good notebook and ink pen.
With so much work ahead of me, it's no wonder that I go through phases of disinterest. I write, and write, and write until I just can't write anymore. Then I go into hiding for a couple of weeks before the urge to write strikes me hard and fast. Writing is definitely my passion, but sometimes passion takes a break as the world around us interrupts it.
This is how it is for me anyway. Every writer is unique and therefore has his/her own techniques and style for getting work completed.
Well, I better stop rambling and get back to work. The dryer stopped, so it's time to put my warm, soft, Egyptian Cotton sheets back on the bed so Tim & I can mess them up later tonight. LOL!
Have a fantastic day!