Morning all. It's one of my favorite days of the week. I've always enjoyed a good Thursday. It's almost the end of the week, and these days it's the first day of the weekend for Tim. I love having him home, and it appears that I'll have him home even more when August rolls around. He was informed yesterday that his plant is closing down on August 5th.
Luckily, he'll be working until the very last day when many of the guys will be laid off in June and July. It sucks, but what can you do in this economy? He seems pretty upbeat about it all, and at this moment I'm okay. There's still a lot of time between now and August, so we have time to plan, get things in order, and make sure things will work out to our advantage... or at least acceptable.
Anyway, that's what we discussed a lot yesterday. These days are when I'm sooooo glad we don't have a lot of bills. We don't have car payments, we don't have loans, we don't have credit cards. All we have other than utilities and insurance is our mortgage and the oldest daughter's braces to pay for. Thank goodness! We'll survive, we always do. :-)
Okay, so I promised pictures for today. These are random, but are some I've been meaning to share.
The one at the top is of a necklace I bought the other week when we went out of town for our anniversary. It's a stone called Snowflakes of something or other. LOL! I asked the shop lady, and she told me, but I've completely forgotten it. LOL. I do know that it starts with
Snowflakes
though. I found it quite lovely and since it's black and white I can wear it with almost anything. :-)
Next up is a picture of my little sister and her guy. They are currently planning their wedding for next year. I think they make a very cute couple (even if he wasn't happy about having his picture taken). This was taken when we all went up to the mountains for family shots.
Now, on that same day Tim and I took the girls to the local park when we came down off the mountain. It was such a lovely day that we couldn't stand the thought of just going home. So here's the fountain at our local park. The blue sky streaked with white clouds seemed to blend perfectly when the water.
Lastly, I want to share pics of the new candle holder set that we got so cheap when we were out of town. And to show how well it goes with our bedroom, there's a pic of our bedset and the artwork we have hanging at the head of the bed. You can see the wall color behind the candle set as well.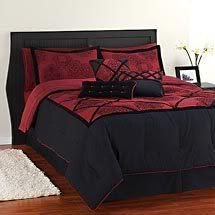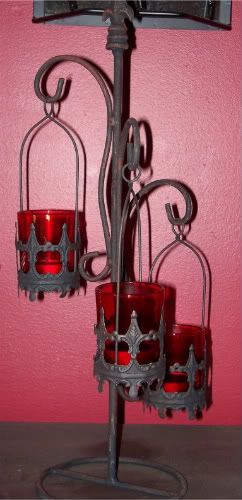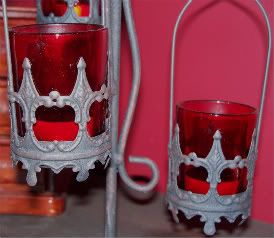 Well, there you go! I promised pictures and now you have pictures. :-) Now I'm off to enjoy the day with my one and only.
Oh, before it slips my mind, thank you to my friends and family who are helping me reach the 1 million pageview mark on AC. I had another article published on Tuesday, if you haven't seen it, called
SAHM: Naptime - To Clean or Not To Clean
. It's the first in a series of SAHM articles I'm working on. Check it out!
Have a great day!