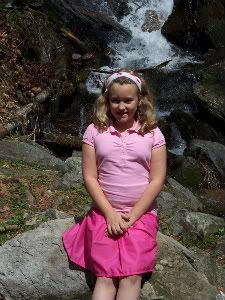 Today is my middle daughter's ninth birthday. She's such a big girl now and so vey helpful, when she wants to be. Sara is an excellent student, so very cute, can be such a pain in the ass, and likes to fight with both her older and younger sisters. LOL!
However, she really a gentle child. She's super quiet in school, and is quite timid at times. She was only 4 1/2 when the youngst was born. Actually the youngest is that age right now. Wow! Time sure does fly, doesn't it?
Sara loves Hannah Montana, The Jonas Brothers, and anything artsy. She loves to paint, draw, color, and even does a little writing from time to time. She was a kinky-headed blonde when she was tiny, but now she likes me to straighten her hair. I miss those baby curls she had.
Today we're having a family birthday party to celebrate our middle daughter. She'll have us, Tim's parents, my mom, my sister, and the girls' brand new uncle here today. LOL. I'm baking her birthday cake right now (yellow cake with chocolate frosting) and will start on the homemade pizzas soon. The party is set for 12:30.
As for gifts, Tim and I got her a lovely jewelry box with mirror that she can paint and decorate herself. It's a nice little kit. Tim's parents will be bringing a gumball machine that she asked for. My mom is bringing a Blendy Pens set that she was begging for. And Aunt Amanda & Uncle Dusty will be bringing a pile of new school clothes that Sara had already picked out. Sounds like plenty of goodies for a 9 year old to enjoy! :-)
Here i a picture of the girls when the youngest was born. Obviously, the birthday girl is on the right with her blonde ringlets. :-)
Have a great day everyone! I'm off to celebrate. :-)
.