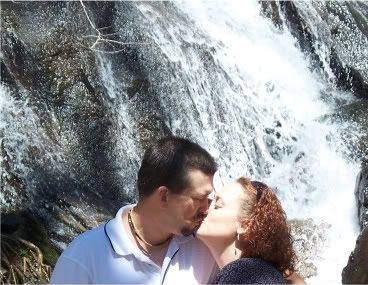 Good morning all. Tuesday is just Tuesday. Nothing special, or planned for today. Maybe that'll mean I'll have a productive day. :-)
Yesterday was quite eventful though. I did just as I said and waited until after lunchtime for the urologist's office to call. When the phone hadn't rung by 1pm Tim told me to go ahead and call them. I did, but the recording said they were out to lunch until 1:30. Not only that, but the recording said that the doctor was out of the office until next Monday. ACK! I was heartbroken at the thought that we wouldn't find out the results of his lab work until next week. :-(
However, I called back again at 2pm, and went into my lovely, sweet Christie-mode. The receptionist helpfully transferred me to the nurse where I ended up leaving a message with all the details. The receptionist's idea was that maybe the doctor had already signed off on the lab results (because she did confirm that the fax had arrived safely) and that maybe the nurse could tell me the results.
I left the message and then waited. It was two hours later, and no phone call, when Tim was on his way from work. We always talk on the phone during his hour drive each day, and then the other line beeped! Woohoo!
The nurse told me who she was and let me know that the doctor wasn't in the office, and hadn't signed off on the lab results, BUT she was happy to go ahead and tell me that the lab results showed that Tim is all clear! Yay! Woohoo! Party time!!! I'm so giddy I could scream! We've waited 3 MONTHS for this.
After I hung up with her I clicked back over to the other line and told Tim the good news. :-)
We will now happily celebrate his sterility as often as the mood strikes, and with no consequences. Woohoo!


Now that all that's over with, today is the last day to enter my autographed poster give-away of A Midnight Infatuation. I'll be drawing the winning name tomorrow so that I can get it shipped out to the winner before we leave Thursday. Go enter before it's too late!
http://www.christiesilvers.com/contestsgiveaways.htm

No one had any thoughts on me doing a monthly video blog entry yesterday. I still don't know if that would be something you'd like to see. I'll see about doing one when school starts back and the house is quieter. It should be interesting and new. We'll see.

I'm off to get the rest of the house cleaned. Tomorrow I have to run errands in preparation of us leaving, and I won't have time to clean. I don't like coming home to a dirty house after a trip, so I make sure it's spotless beforehand.

Have a good day!

.