Yay, it's Wednesday. The week is half over! I can't wait for the weekend to arrive so the hubby and I can head out of town.
Technically the man works four days a week (ten hours a day). However, he's decided to start our weekend early and is taking tomorrow off. We get a four day weekend! Yay!! If it's as cold tomorrow as it is today then we will just stay in bed under the warm blankets. Hell, we may do that anyway whether it's cold or not. LOL! Of course one of us will have to get up and take the big girls to school and feed the youngest breakfast. But those are just minor details. LOL!
On a different note...
I found out this morning that I placed #2 Best Author in the Preditors & Editors Readers Poll last month!! Woohoo!!!!! I placed 7th last year, so I'm extraordinarily thrilled about being 2nd this year. Thank you to everyone who voted for me. I appreciated every single vote and how wonderfully generous all of my beloved readers are with taking time out of their days to vote.
Time For Death
is finally coming to an end. Well, the end of the first draft anyway. LOL! I'll go through about three more drafts before I'm completely happy with it. I'm really liking how my Liz has turned out though. She's definitely a force to be reckoned with. I love it!
Now if the hubby will quit tempting me I'd get more work done at a much faster pace. LOL! But not until after our long weekend. ;-) I have plans for him!
Now, onto yet another completely different note....
Some of you may notice that I've placed the blog on moderated comments. No worries for those of you who are regular responders. I still love ya!
All this time I've resisted moderated comments, yet lately there have been some anonymous ones that the hubby & I don't appreciate (those of you who know me personally will know exactly what I'm talking about) and I really don't have the time to come back and delete them as quickly as I'd like to. Soooo, the blog is now on moderated for just that reason. That may change in the future, but for now that's just how it has to be.
Hmmm....
I think that's about it for today. This month's newsletter went out this morning. I hope those of you who are subscribed will enjoy it, and those of you who aren't, there's a link up top to sign up.
Oh, before I go, look at my new shoes...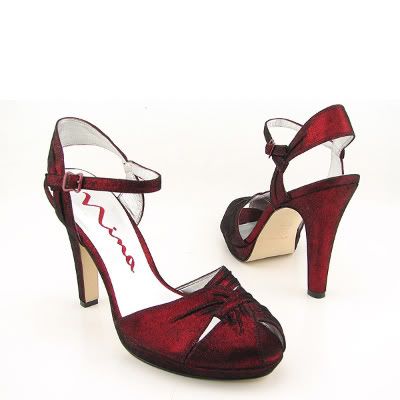 Hot huh? They are $90 Nina Dilsey. A little higher heel than I'm use to (5 inches), but they were sooooo gorgeous that I couldn't pass up the deal I got on them. It'd be nice if they arrive before I leave this weekend, but I doubt that'll happen.
Okay, I'm out. I hear the hubby texting me. Have a fabulous Hump Day and a wonderful weekend to come. I know I will! ;-)
.