Today is my 15th wedding anniversary!
Tim and I wed on April 9, 1994, at the tender age of seventeen (I still had my braces on at the time too, lol), and never looked back. :-) Sometimes I can't believe that it's already been this long, and other times it feels like it should be longer.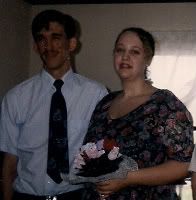 The happy couple--April 9, 1994
We were quite young when we married. We were energetic teenagers, completely in love and ready to spend the rest of our lives together. All the people around us were hooking up and dumping one another. The married ones were getting divorced in a matter of months. But we held strong and knew we had the everlasting kind of love. And look at it now!
Oh, and I promised you a shot of our chocolate wedding cake, didn't I? Here you go....
We have so much more fun now than we did back then too (even with all the sneaking off and having "fun" in the back of his truck in the woods, lol). Each year is better than the one before. I can only imagine how we'll be in another five, ten, fifteen years. LOL!

So anyway, today we're heading out of town for the weekend. It was suppose to be tomorrow, but Tim wanted to go a day early, so were off. LOL! We're taking the kids with us this time, but it's to celebrate our anniversary. We try to go every year around this time because this is the same place we went for our honeymoon as well. As a matter of fact, our oldest was conceived while we were there for our 2nd anniversary. LOL! Awww, fun memories!

Nevertheless, I'll be gone until late Sunday. If you're a close friend or family, you'll know how to reach me on my cell. Everyone else will have to wait until I come back and check my emails. ;-)

I hope you all have a glorious day and weekend. I plan on spending some quality time with the family, swimming in the indoor pool at the hotel, and celebrating a fabulous 15 years with my loving husband. Here's to another 15!
I think we look much better now (at the age of 32) than we did back then at 17. LOL!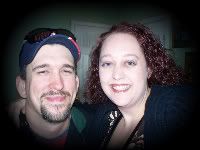 .