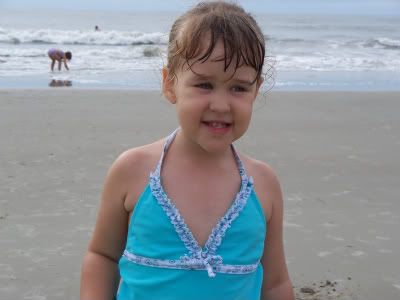 Good morning out there in cyber-land! How is everyone? It's Hump Day and I hope you're able to take full advantage of a brand new day. :-)
This morning there was a little sunshine, but then clouds started rolling in and now it's dim outside. We had two days of sunshine, so I guess it was only a matter of time before he clouds came back. I am sooooo ready for summer to arrive.
Speaking of summer, this week's Wanna Know Wednesday topic is:
10 Things I Love About Summer


Sunshine all the time.


Getting a good tan.


Swimming in the pool everyday.


Going to the beach


Wearing sandals & going barefoot.


Watching the kids play in the sprinkler.


The excitement of taking a vacation.


Not having to get up early.


The slowness of a lazy summer day.


Relaxing outside with Tim while grilling out and drinking something fruity.

I love summer! Yes, it gets pretty darn hot down here in Georgia, but I love it! We go on a beach vacation every summer to Tybee Island, Georgia. We weren't going to go this year since Tim will be losing his job in August. However, he decided that he wasn't going to let that stop us. We usually go for seven days, but this time we're going for three days. Just long enough for us to have a good time and get our yearly dose of the beach that we love so much.

We'll be heading out on July 30th and will return on August 2nd. Then he'll have three days of work left (with August 5th as his last day), and the girls will go back to school on August 6th. It will be a very busy two weeks at that time.

Oky, enough rambling. I must get going now. I have a load of laundry to fold, another load is drying, and I need to throw my bedsheets into the wash. After that it's writing time! Woohoo! :-)

Have a great Wednesday!

.