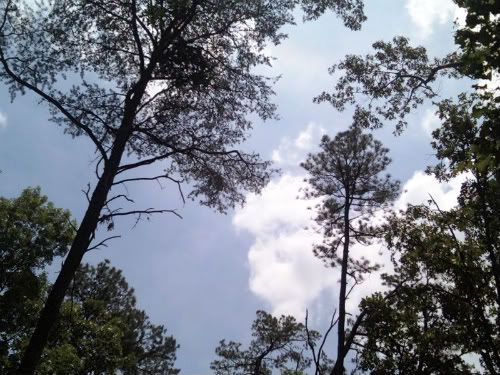 Wow, I'm in such a fantastic mood today! We have been outside nearly all day long. It's been beautiful and the temperature has been moderate. Right now it's just at 78 degrees. Makes for a great day!
This morning I started out by weeding the vegetable garden, then we ran the lines for our green beans, and then I staked up some tomato plants. After that I moved some irises from the front yard to the back. I cleaned the pool and shuddered at the coolness of the water after a day of rain and a cool, windy day yesterday. After lunch, the girls begged to get in the pool. I let them, but refused to join them. LOL!
Tim did a lot of weedeating before he joined them in the freezing cold water. I took that time to relax in the nearby hammock and stared off into the lovely blue skies.
It has been wonderful.
Right now we're inside getting ready to make dinner in an hour. Tonight, Tim is grilling steaks (we have grilled cheddar brawts last night, yum!). I'll be making deviled eggs, baked beans, and salads for everyone inside. Should be a great dinner!
The picture above is of my view from the hammock. The sky is beautiful. Below you will find the youngest swimming and my feet enjoying the relaxation time. ;-)
That's it for today! I'm off to make a pitcher of alcoholic drinks and start boiling the eggs. I hope you've had abeautiful Saturday.