Morning, morning! Time for another new week. Can you believe it'll be April in a few days? Spring really is here to stay.
The weekend was a busy one and definitely went by far too quickly because of it. But now it's time for a new week, new work, new plans, new
exhaustions
. However, the kids only have four days of school this week and then they're out for Spring Break. Ten day of not having to hear the alarm clock, not waking up before the sun rises, and spending time with the kiddos without having to rush around to and from school.
I'm thinking we'll take them to the aquarium (since we have a family membership) and if the weather permits we'll go for a mountain drive and picnic. And I'll use that time to take our spring pictures. Here's our family shot from last year: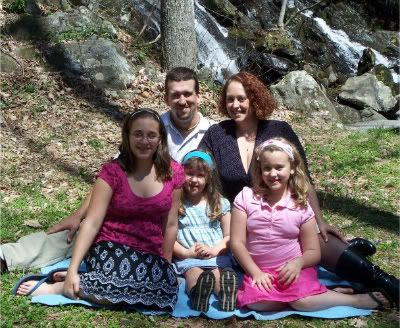 It was a nice day in the mountains last year. Hopefully this year will be just as nice.
Oh yeah, the good news part! I received some great news yesterday about my second Liz Baker book (Kill Me Next Week). You never know when something happy and exciting will come your way when you least expect it.
Kill Me Next Week
is aiming for an end of the year release, so it looks like I better get on the ball with finishing it up.
Of course, in the meantime we gotta get
Time For Death
released and out to the masses. Only a few more weeks before Liz is introduced. I hope my Alex & Fiona fans will enjoy Liz and her sassy attitude. She's quite spunky when she wants to be.
Another event coming up in April would have to be the celebration of my marriage to the man who rocks my world, and who makes a great research partner for certain book scenes. ;-) Our 16th anniversary will be rolling around on A
pril
9th. I haven't decided how we'll celebrate yet, but my mother will have the kids that night...
Hmmmm
...
Okay, I'm off to get some work done. Have a wonderful Monday and week ahead!