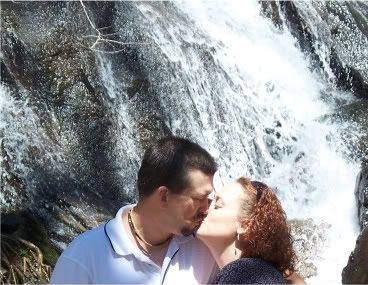 Welcome to a brand new week. It's not so bad, especially when you have a birthday to celebrate right at the beginning!
Today is my honey's 34th birthday. Yesterday we went out for lunch with his parents to celebrate with them. Today we're planning a cook-out here at home. He swore he didn't want a birthday cake, but I got the stuff to bake him one anyway. We'll grill out and have cake this evening.
I--very slowly and Marilyn Monroe-like--sang him "Happy Birthday" this morning, but I'll be required to do the shouting/screaming/off-pitch singing with the kids this evening. LOL. It's all fun though.
This morning I've already dried & put away three loads of laundry, ran to the post office to drop off a package and buy stamps, and then over to the grocery store for hamburger buns (whole wheat since Tim's older now, LOL). Since I went by my lonesome, I got a taste of how quickly errands will go when the youngest is in school and Tim is back to work. That was quite odd! What will I ever do with myself when the house is empty all day and I have to (get to) go to town all alone?
I can't wait to find out! :)
Well, that's it today. I'm off to do some writing while Tim's playing Xbox and then all attention is on him for the day. Have a good one!